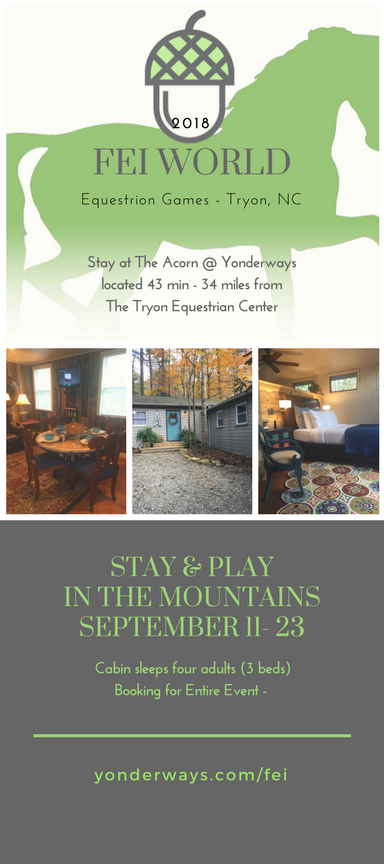 FEI World Equestrian Games 2018 – are being held at the Tryon International Equestrian Center and The Acorn @ Yonderways is offering affordable lodging for the main games being held September 11th – September 23rd. We're reserving two weeks plus* exclusively for someone wishing to secure lodging for the event in its entirety. If you're in need of affordable lodging and you are planning to stay for 14 days + to attend all the events we may just be the lodging fit for you.
NOTE: The calendar shows no availability, but that's because we blocked the dates for this promotion. Once we go to contract we will remove this special notice. If you're reading this the lodging is still up for grabs.
Our cabin is located in Henderson County in a beautiful and easily accessible mountain location. The cabin is 34 miles door to door, an approximate 43 minute drive, to TIEC. The drive to and from allow you ample selections of restaurants and other shopping and entertainment.
So that the cabin can immediately feel like home, we're offering a pantry stocking service whereby you order groceries from your favorite online supplier and have them delivered a few days before your arrival. We will have all your favorites ready and waiting.
For your 2 week stay we will be offering optional daily maid service & complimentary laundry services.
Please see all amenities and cabin rules here: https://yonderways.com/cabin-rental
We're an ideal fit for families or vendors wishing to explore and/or relax in the beautiful Blue Ridge Mountains while also attending/working this spectacular world event. Maximum occupancy 4 adults, but additional infants and children under 12yo can be accommodated. Dogs are welcome – up to 2, with a maximum weight limit of 30lbs each (and an extra security deposit and cleaning fee).
*You can arrive as early as September 9th and head out as late as September 25th – the package is a one price, all-in or nothing arrangement. The price includes all sales and occupancy taxes and is $1950.00 + a refundable security deposit of $300.
A deposit of $975 + $300 security deposit ($1275) and a signed rental agreement with official ID is required to secure reservations. 100% refund – $50 processing fee, if we're notified at least 30 days in advance of event.
Feel free to contact us, and check out our google and facebook ratings and have a look around the site to learn more about the cabin & amenities.
Thank you for your interest in staying Yonderways!
Donna & Keith