Donna's Birthday Promo
promo-jan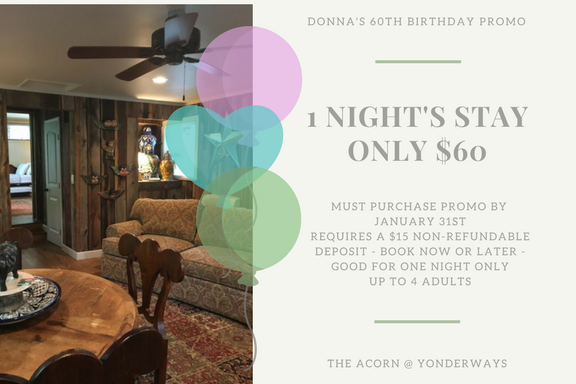 Happy Birthday to ME!! This year I'm turning sensational SIXTY and I couldn't think of a better way to celebrate than to offer friends and family an extra sensational special of a night's stay for the very age I'm celebrating - $60 for one night at The Acorn Cabin - up to four adults.
To secure my birthday rate, just purchase the promo for a non-refundable $15 (you'll owe only the balance of $45 upon arrival of booking), and then book anytime before the end of the year.
You can purchase as many promos as you wish, but only one night's stay birthday rate can be applied to each visit (friendly reminder - we require a 2-night minimum stay on weekends - Thu-Sat). All other night's rates are determined by our new rate schedule - See new 2018 Rental Rates. Also, my birthday promo can't be applied with other discounts, certificates, or coupons.
Hurry - my birthday promo expires January 31st. Thanks for helping me celebrate SIXTY with YOU and your friends all year long! ~ Donna